1969 Silvertone 1220 / Harmony Sovereign
Posted on August 08 2019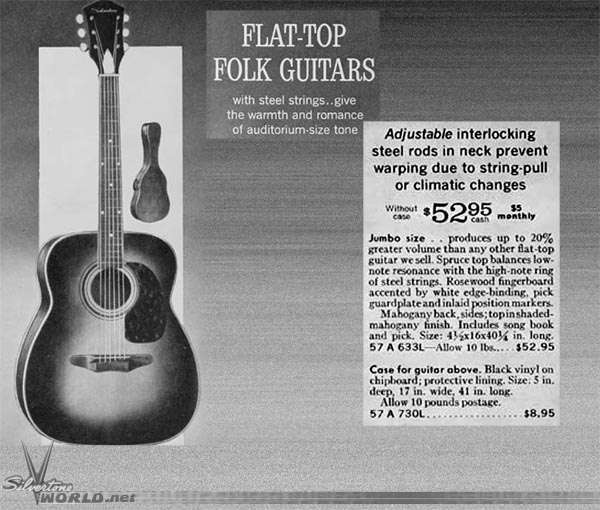 From the 1967 Sears Catalog, "
Jumbo Size
...
produces up to 20% more volume than any other flat-top guitar we sell. Spruce top balances low note resonance with high not ring of steel strings. Rosewood fingerboard accented by white edge-binding, pick guardplate and inlaid position markers. Mahogany back, sides; top in shaded Mahogany finish." 
Harmony's 16" wide Sovereign model was rebranded and sold by Sears from 1967 until 1973. The Sovereign is known by players as the budget guitar that will hang with any good D-18 or J-45. This near mint 1969 Silvertone 1220 (Sovereign) shows almost no evidence of playing wear and has survived in almost unbelievably clean condition. It plays like a brand new guitar after our favorite shop (Burns Repair) performed an excellent neck reset and installed a forgery grade bone saddle. We were absolutely blown away by the tone and playability of this American made dreadnought powerhouse. It's now ready for the stage, studio, collection, or picking circle.