Fender's Thinline Telecaster
Posted on October 20 2017
The recently purchased Fender company was noticing some complaints about one of their most popular models in 1967: the Telecaster was gaining weight. High quality (read: light weight) Ash to make guitar bodies was becoming scarce while the heavier stuff was readily available. Legendary German guitar designer Roger Rossmeisel was then employed at Fender and set out to design a guitar that could utilize the more abundant (heavy) Ash and yet not break the player's back. Rossmeisel's first design was to route away body material underneath the pickguard. The modification was completely hidden by the pickguard and the guitar appeared to be a standard Telecaster. The design didn't allow for much material to be removed so it likely didn't fully accomplish the original goal. The design was short lived and the few original examples command high prices on the vintage market. This became known as the Smuggler's Tele although I doubt very many  were used for that purpose. It takes far too much work to remove the pickguard to access the secret compartment. [caption id="" align="aligncenter" width="630"]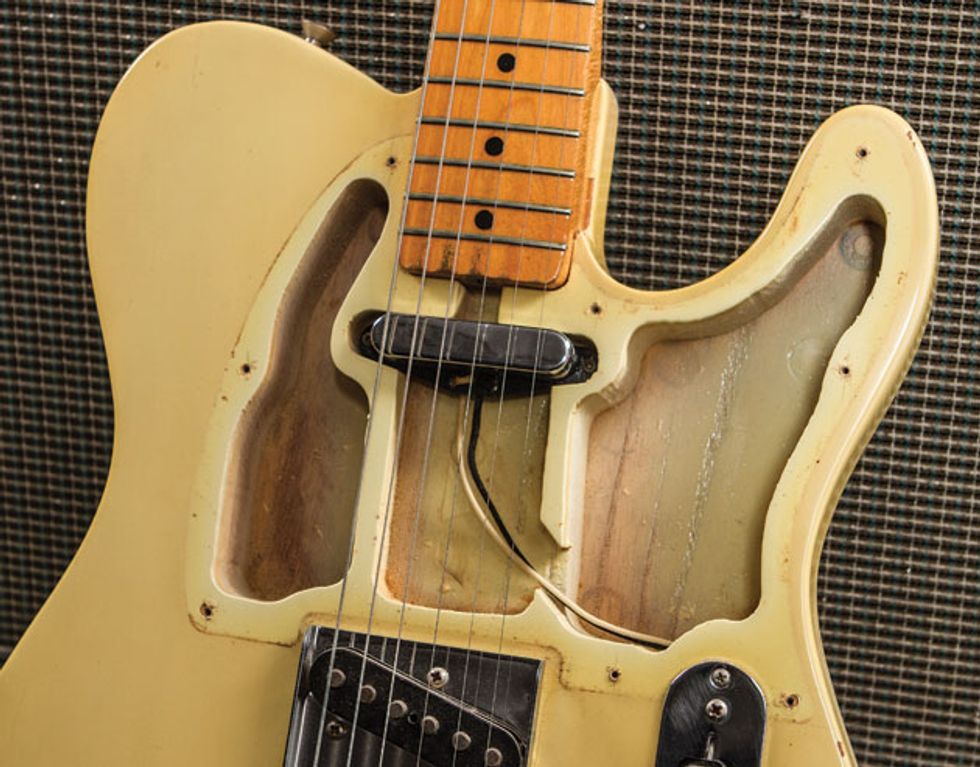 Source: Premierguitar.com[/caption] Roger's next design was the exact opposite of the first: the body was laid face down while material was removed from the back of the guitar in the wing area. A thin piece of Ash was laminated over the back effectively hiding the back routes. Roger's trademark thin F hole shape was routed on top of the guitar in the forearm area to identify the guitar as a Thinline Telecaster. This version also included an elongated pearloid pickguard and was finished in clear lacquer. The rest of the guitar remained standard Telecaster including the single coil pickups. It was initially offered in Ash or Mahogany. [caption id="" align="aligncenter" width="614"]
Source: Reverb.com (Mahogany body)[/caption] The Version 2 Thinline Telecaster became something else entirely in 1972: a humbucker Tele! Seth Lover was plucked from his job at Gibson in Kalamazoo, MI and brought in to develop a humbucking pickup for Fender. This resulted in what Fender dubbed the "Wide Range Humbucking Pickup" although Fender literature listed all of their pickups as wide range. The V2 Thinline Tele also received Fender's three bolt "Micro-tilt" neck as well as a bullet truss rod adjustable at the top of the headstock. The neck angle and relief were now adjustable without having to remove the neck from the body.
The V2 Thinline lasted in the catalog throughout the 1970s but was dropped for the September 1, 1979 price list. It was revived as the '72 Reissue Thinline Telecaster in 2004 and has been a huge commercial success. The reissue guitars remain pretty close to the original with the exception of the pickup design. Reissue WR pickups may look like the originals from the outside but are constructed like a Gibson humbucker with bar magnets under the coils instead of the CuNiFe threaded magnets like the originals. We're always looking to buy vintage Telecaster guitars. Do you have one? I'd love to check it out. You can
contact me here
to send information and a picture of your guitar.